Better Alternative to Youstable
Youstable Vs Dewlance

comparison based on real data.

If you are searching for good hosting company then its better to find different host for peace and keep away from bad host like Youstable that use bad tactics and this is summer host.

Note: While looking at Youstable, I found that Youstable caugh red-handed for posting Fake Reviews by Reputed site like DigitalFAQ.com
Choosing a better alternative to YouStable?
In various countries, College students start their hosting company to earn some money and professionals called them "Summer Host" because of they get closed within few year and YouStable is one of them because of they get caugh red-handed for posting fake reviews which is always done by most of Summer Host to get popularity in short term.
Here is comparision chart: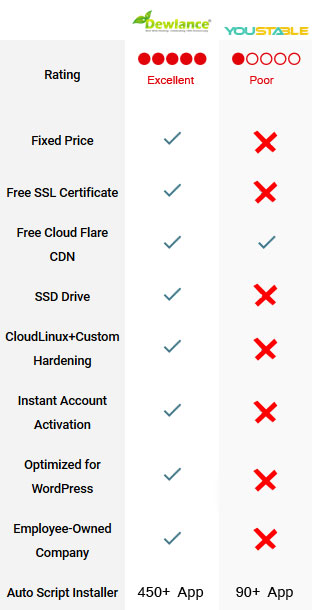 Youstable pricing is based on big companies like Hostgator but they don't know that they are trying to compare themself to very big company which have billions of budget and this mistake is always done by summer hosts.
Experience Comparision:
Dewlance:  10 Year (One Decade)
YouStable: 3 Year (Not eve half of Dewlance)
Is Dewlance Servers are SEO Optimized?
Yes, Dewlance servers are helpful for good SEO because of we maintain many things which affect SEO like 99.99% Uptime and minimizing downtime, Accelarated performance for any type of website. For WordPress we care about compressing contents like images which help browser to access it 80% quickly than normal server used by Youstable.
Free Domain by Dewlance?
YouStable did not work on optimizing the servers for WordPress, and the domain name increases the hosting cost by $59.88 per year. Youstable renewal charges is $4.99 per month so total yearly cost will be exceed $59.88 then why pay $47.28 more?
Choose Dewlance, We also provide Free Domain Hosting at just $12.6/year (Save Huge money).
Dewlance 30 Day Money-Back Guarantee  Vs .  YouStable with No-Refund Policy?
Dewlance provide 30 Day Money-Back Guarantee on any Billing Cycle, No Question asked while YouStable Refund policy is bad for anyone. They do not provide refund on billing payment like Yearly and Refund is at their mercy while Dewlance Refund Policy is clear and customer can easily get refund by creating ticket. Dewlance understand that customer can ask refund for any reason like they postpond their work for next month due to their some personal work or requirement.
Dewlance is Experienced, Professional company which is providing hosting from last 10 years. Our Plans don't have limit to maximum 5 database, subdomain which can affect customer's business and limit site growth. (Just think that you are only allowed to use 1 database then how can you install other software like forum software, blog software, billing software and various softwares.)
Why use limits on Database creation when advance or experienced person can bypass this limit by using "Subprefix" in database to install multiple blog, etc?
(Visited 165 times, 1 visits today)